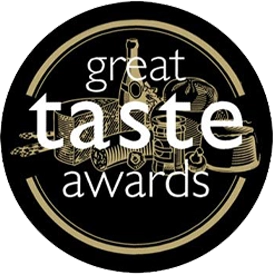 The outcome of synergy is quality
The team at Husk & Honey has spent the last seven years sourcing, baking and delivering premium, tray-baked granola from its dedicated bakery in the heart of London. In this time, they have created, and baked, over 530 different granola recipes, with a host of original blends such as 'Burnt Orange & Black Tea' and 'Coconut & Hibiscus' being created to meet the needs – and tase buds – of customers.
As the first and only dedicated granola bakery, Husk & Honey work with over 100 very select stockists in the UK. Its blends are also available via its online shop and at the bakery itself on Saturday mornings. They offer a recurring letterbox granola delivery all over the UK where customers can receive oven-fresh batches direct to their door.
During this time their reputation for excellence has grown and they are recognised by no lesser an authority on food that Michel Roux Jr who in 2017, selected Husk & Honey as the best granola in the UK and they have since been awarded four Great Taste awards by the Guild of Fine Food.
Husk & Honey also run a busy wholesale division, supplying hotels, hampers, restaurants, events and exciting bespoke projects ranging from 20 to 5000 units with product packed in a host of ways from just 100g to 10,000g! This means it's important for them to have flexibility with packaging – some items need to be printed in-house with really tight turnaround times, whilst some items (such as the gold foiled labels) can have a much longer lead time.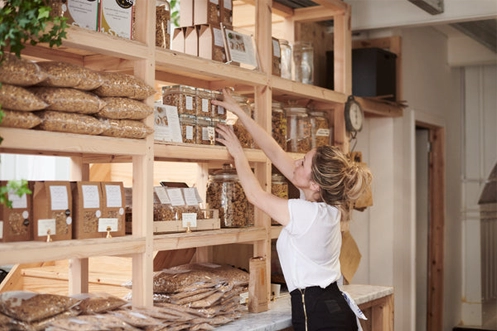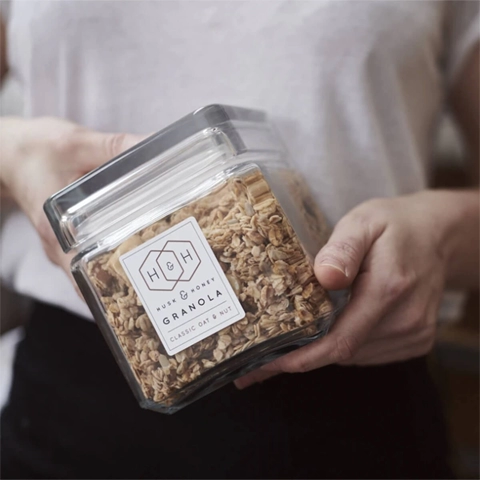 Creating flexible and innovative packaging solutions
After reviewing their branding and visibility, the team wanted to improve the appearance of its labels, due to the range of different packaging and products. The label requirements spanned flat A4 sheets that could be printed in-house on laser and inkjet printers, as well as printed roll labels and circular foiled labels on a roll to fit a label gun. Hedie Howells from Husk & Honey comments; "AA Labels was able to look at our requirements and provide a total, consistent solution – a service we found invaluable."
"Luxury paper was provided for all labels, including those using foil. In addition, AA Labels were able to give us a perfect colour and texture match across all the different label types, not to mention a huge variety of sizes enabling us to find the perfect match!"
"The speed at which they could provide these was a critical element of the service – we rely on a fast turnaround, as things can be unpredictable and we need suppliers to be efficient to assure the smooth running of the business. AA Labels support in this regard was also invaluable."
In addition, AA labels provided Husk & Honey with an incredibly efficient ordering service, aided by AA Label's website which helps to cut out variables, minimising the delays often associated with some bespoke services. This enabled the business to order very quickly, freeing up time to research the exact product before placing orders. AA Labels offered a huge amount of information for each type of label online, such as template dimensions to assist in-house printing, streamlining the design aspect and bypassing lengthy time spent with customer services.
Husk & Honey choose pre-cut print compatible labels, pre-printed labels on a roll to fit their labelling machine and AA Label's label embellishment, gold foil service.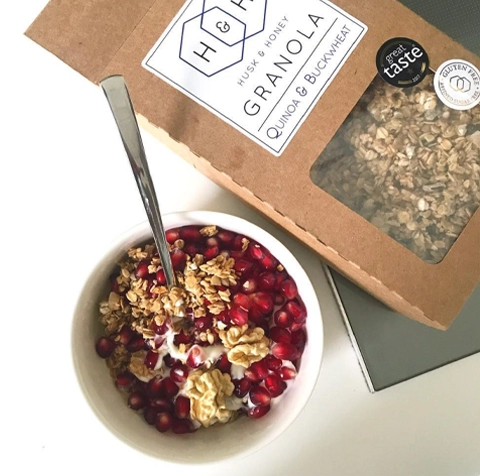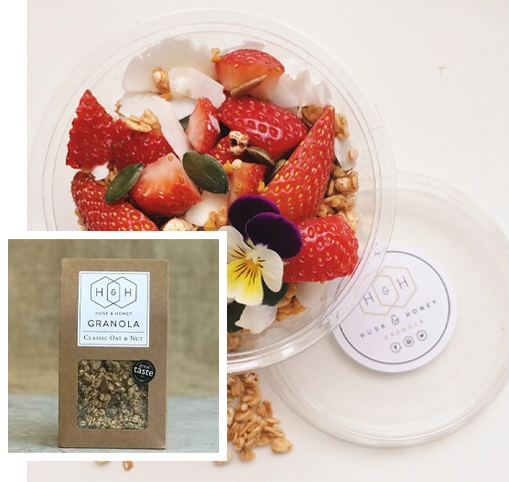 Continues Hedie: "It was really easy to work with AA Labels and we valued the human touch. For instance, a delay with stock was identified, so the AA Labels team called immediately to flag this and offer an alternative solution."
"In the near future we are looking at redesigning some of the product packaging, and it is very likely that we will take advantage of more of the AA Labels design features and capabilities, such as embossing and gloss finishes on the labels."
To find out more about Husk & Honey and their range of premium granola, go to https://huskandhoney.co.uk/
Also visit their social-media sites on Facebook, Instagram & Linked In.
Related Articles: