Increasingly the labels being produced today are more than just a means of conveying product information and there are a range of established and emerging embellishment technologies being innovatively used to create labels to engage a wider range of human senses.
Some of the popular embellishment effects that can be created to enhance the appearance, tactile feel and appeal of labels are:
Embossing
Foiling
Screen Printing
UV Spot Coating (and other label finishes e.g. Rough & Soft-Touch laminates)
Embossing
Embossing allows you to add custom design, lettering, decoration and patterned effects to your labels.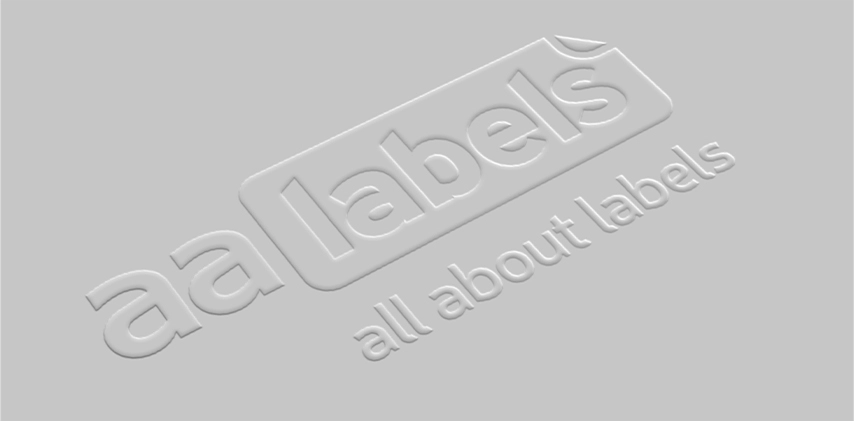 Embossed labels are produced from a variety of label materials, predominately paper, but some Polymer label materials are also suitable for embossing. The process uses custom dies and high pressure on part/s of the label material, resulting in raised areas, providing depth and texture.
We provide both plain embossing options and in association with digital printing and hot foiling. Whether you have a small order requirement or a large print-run, we have the capability to produce high-quality embossed labels that differentiate your product labels and deliver value-for-money.
Creating Cost-Effective Embossed Labels
Label embossing costs are primarily driven by set-up and tooling, run size and the frequency of repeat order. Different effects require different set-up, some of which may already exist, while others will be custom specific to the requirements of a particular design.
Pattern Embossing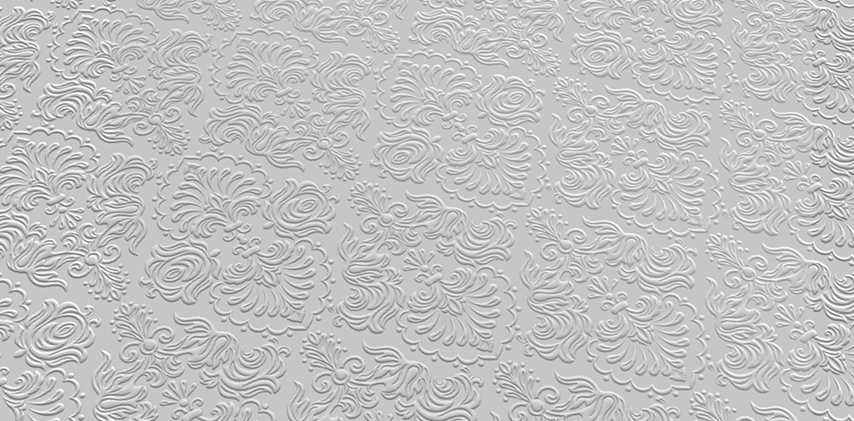 For example, dependent upon the overall pattern required on the label, can have a lower set-up cost if the background pattern already exists for the label shape and size. The technique imprints the embossed texture of premium materials such as heavily grained craft paper, leaves or tree bark for example, on to the labels with a relatively inexpensive flexible Photopolymer plate. Achieving a premium label look without the expense of premium materials.
Selective Item Embossing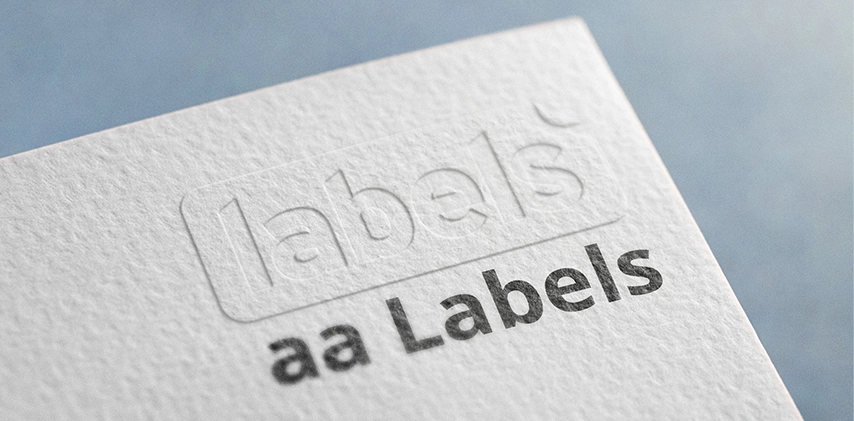 To achieve high-definition sculpted or raised-round embossing effects the set-up costs are higher for two reasons. The design is unlikely to exist as it is for a specific label and the plates need to be made from hard metals such as brass, copper, magnesium or steel, irrespective of whether flat-bed or rotary label conversion.
As with any label embellishment, emboss set-up costs become a less significant element of the overall production budget as the run size and repeat order frequency increases. For long, frequently repeated orders even higher price sculpted embossing becomes a minimal part of the overall production cost, as a consequence of the higher volumes of labels produced.
Debossing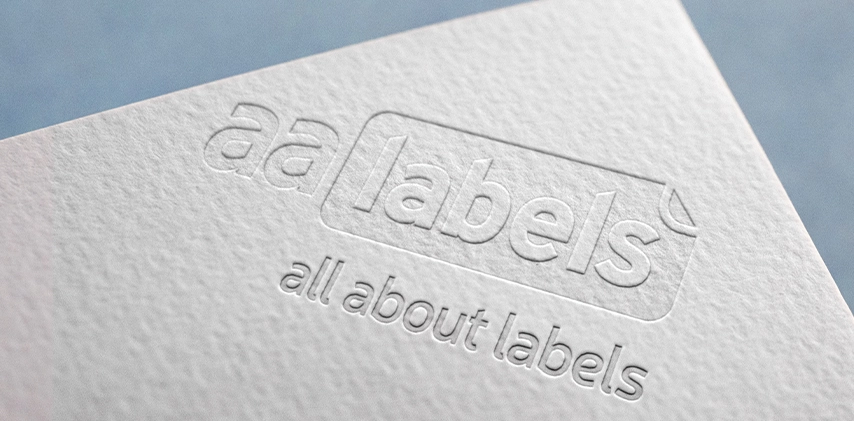 In contrast to embossed effects where the image and/or text rise up above the labels surface, with debossing the effect is achieved by the area concerned being sunk below the label surface, as can be seen in the above image. Which can be particularly effective when used in combination with embossing, but tends to work better on thicker label materials, such as craft papers.
Blind Embossing & Debossing
This term refers to a label finish in which no ink or foil has been used in combination with deboss and/or emboss, resulting in what can be a very subtle label effect.
Embossing & Debossing Types
There are several specific standard types of embossing and debossing and it can be helpful to know the terminology for the different styles. The various profiles shown here are based on the type of tooling used to create the effect: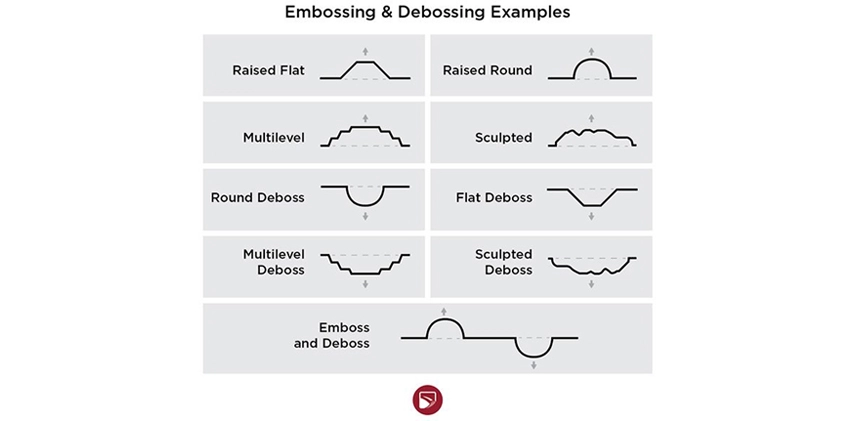 Label Materials
The most common substrates for label embossing are paper and paper-foil laminates. Although there are a few Polymer films that can be embossed, but most film substrates have a shape memory, which means that gradually, over time, the embossed image will disappear as the film returns to its original state of flatness. The suitable materials for embossing and debossing are listed on the website for selection when compiling your label specification for order placement.
Embossing & Debossing Die's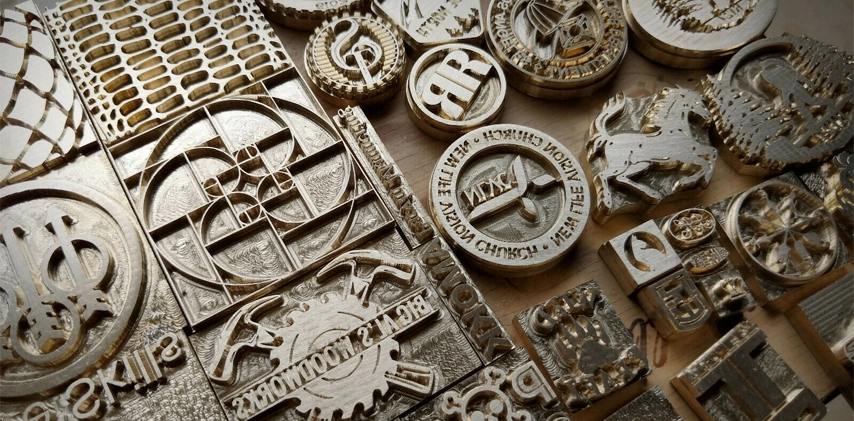 As with cutting dies used in label conversion, traditional embossing dies are made of brass, copper, magnesium or steel except for those used in background pattern production which tend to be a Photopolymer. All embossing dies are produced in pairs, a male and female, which are mounted into a standard die station.
The three key elements employed in the production of embossed/debossed labels are precision, timing and pressure. Embossing/debossing tools are precision engraved using exactingly accurate tolerances and will also have a specific clearance relative to the thickness of the label material to be used. Therefore, tooling based on a luxury paper label material with a caliper of 140 µm will not necessarily work on a standard paper label with a caliper of 80 µm.
Multi-stroke Emboss
There is also a method of combining embossing with foil stamping, known as a "Multi-stroke Emboss", where the emboss and foil stamp are applied simultaneously. This results in very precise and sharp registration of these two label embellishment/finishing options.
Depending on the complexity of your artwork and the label material to be used, other methods of embossing might be more suitable. We engineer every label we produce to take advantage of the manufacturing technology and provide the highest quality product outcomes.
Finished Appearance
The visual appeal of an embossed label is the result of a minor elevation, or depression in the substrate surface. At distance the human eye cannot tell that one part of the label is raised c. 0.13 mm, instead the eye is registering the light bouncing off of the edges of the embossed area; what we see as a raised image is caused in large part by the reflectivity of the material rather than the height of the embossed area.
Then there is the tactile appeal. Running a finger over an embossed image on a wine label or perfume label tends to assist with the creation of a belief or perception that the content of the bottle is special. It is the creation of this that adds value as embossed product packaging has proven itself to be far more likely to be handled and inspected by consumers.
Applications for Embossed Labels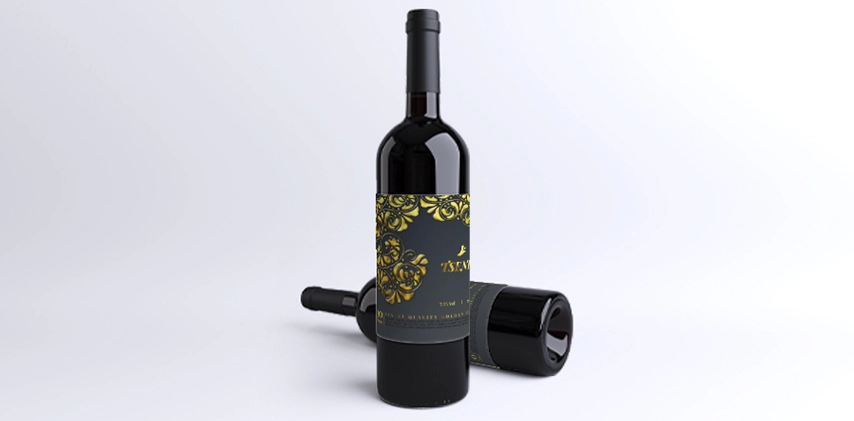 The wine trade has used embossed labels for many years as has the cosmetics industry and this attractive label embellishment is increasingly being utilised for product labelling e.g.
Chocolate & Confectionary
Cosmetics & Personal Care
Food & Beverages
Health & Beauty
Promotional Labels
Wine & Spirit Bottles
Embossed Labels & Other Label Embellishments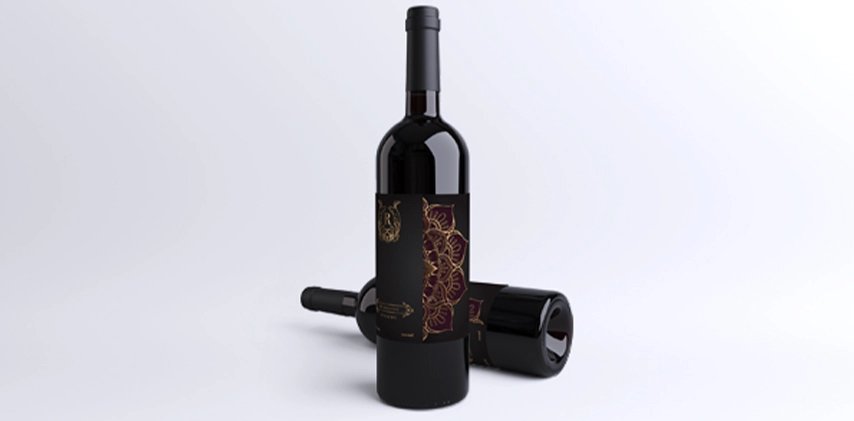 The most obvious and logical of combinations is foil, since the innovation of combining the two label decorating processes of foiling and embossing together in one die. This simplifies manufacturing, reduces cost and improves efficiency while providing opportunities to use foil in added detail texturing engraved together in one tool set.
Custom Foiled Labels – Stand out from the crowd with glistening golds and shimmering silvers to create elegant labels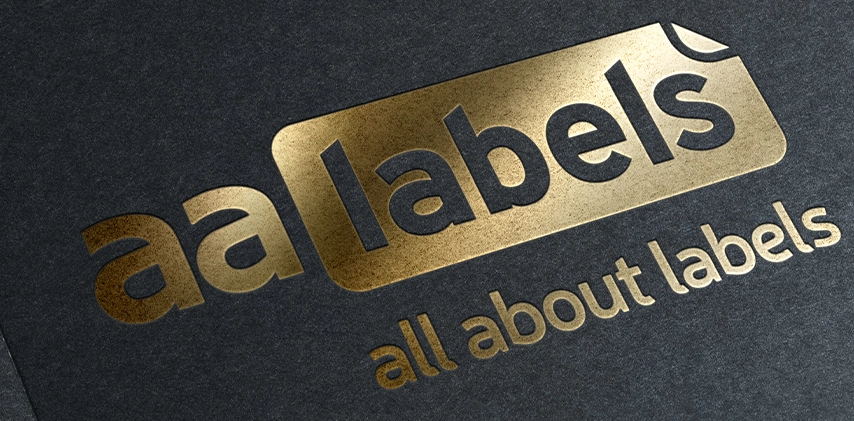 Attractive labels produce results and none more so than those utilising the fantastic label embellishment effects produced with foils.
There are two main types of foil labels: cold foil and hot foil. The difference is mainly in the production process, but also transmits through into the finished appearance.
Cold foil labels are made using a press to apply a thin foil sheet onto label materials with cold printing plates, adhesive and UV curing lamps.
Hot foil labels are made by pressing metallic, dry-ink onto label material using a heated, engraved plate and this is the preferred production method of AA Labels and is also combined with the embossing/debossing, screen-printing and label conversion process.
Hot Stamping

High quality, realistic representations of metallic colours such as copper, brass, bronze, shades of gold and silver are achievable using digital printing on metallic coated Polymer label materials, along with metallic hues of any other colour. However, while this production method produces a superb result for labels, it is flat.
While hot foil is not embossing, it does exhibit three-dimensional effects (micro-embossing), adding a tactile element to the label and produce subtle colour movement effects as the viewing angle direction changes.
There are numerous metallic foils to select from on the website, along with other options i.e. 3D spatial effects and holographic foils.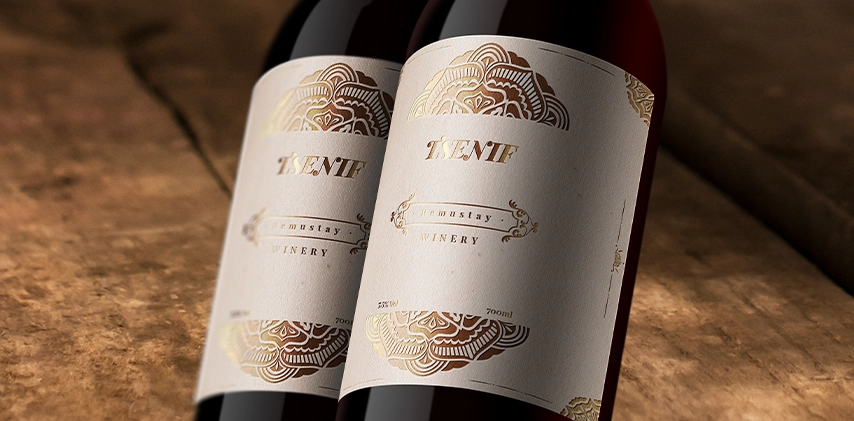 Foils can be used in combination with embossing/debossing and can also be overprinted with multiple colours using translucent inks in a subsequent silk-screen printing process.
Screen Printing – A versatile medium and label embellishment

Screen printing is a technique that involves applying a mesh pattern to a label or product surface, then pressing or pumping ink through the mesh openings and onto the product to produce the image. Silk screen printing is one of the oldest print technologies dating back to 500 AD in China and developed as a commercial process in the West in the early 1900's. Also referred to in relation to label production as just screen printing or process. Todays automated process for label printing uses photographically produced screens and UV inks but in essence the process remains largely unaltered.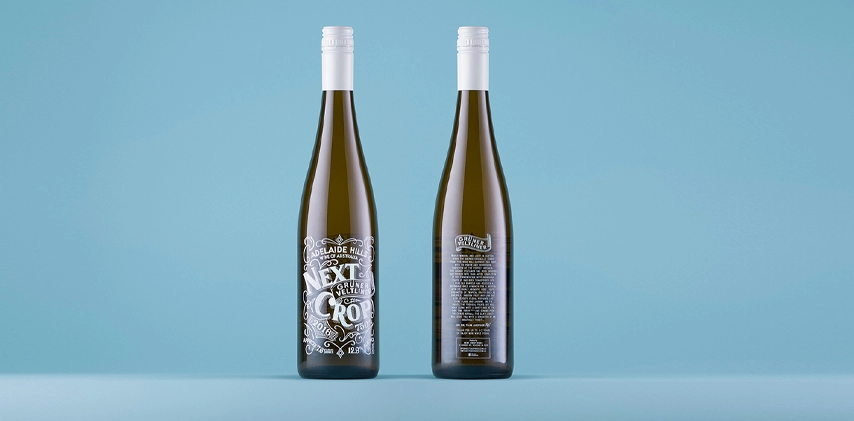 Screen printed labels provide a number of great advantages that make for dynamic labels. They ae highly durable and moisture-resistant, so they make a natural fit for beverage bottle labels. Screen printed labels also provide a high degree of area coverage with precise detail and strong colour intensity. Providing sharp, clear text definition and can work in conjunction with a range of inks. With screen printed labels textured and tactile patterns on labels can also be produced with finished line print appearing like "Intaglio" slightly raised from the label surface. A cost-effective way of creating tactile labels and including braille on labels.
UV Spot Coating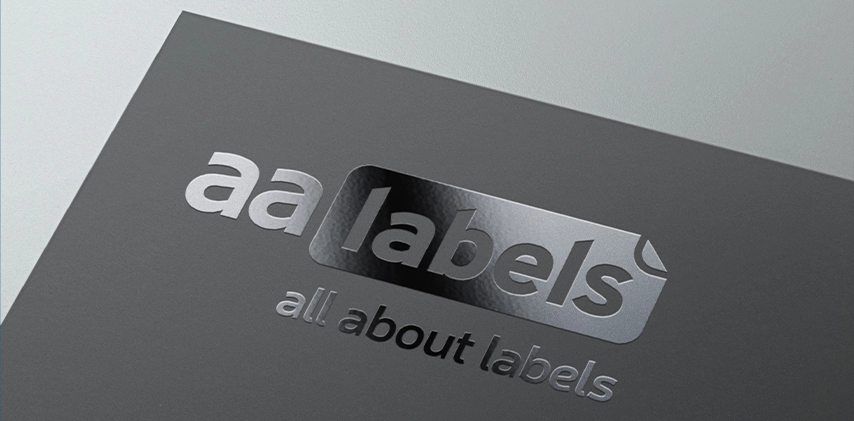 A UV coating is type of varnish finish that is cured by exposure to UV light. UV varnishes are usually applied as a thin film and dry almost instantly when exposed to UV light.
In labelling, UV varnishes are applied to face materials to enhance the appearance of the surface by adding a gloss finish (although flatting agents can be added to produce semi-gloss or matt finishes) and to add a protective coating. However, although this type of varnish is cured by UV light, the coating does not provide protection against the harmful effects of exposure to UV light. The varnish coating can be applied during the manufacturing process or after printing and are either "over-coated" (covering the entire label surface) or "spot-coated" (covering selected sections of the surface).
Why use Spot UV?
This label embellishment is a cost-effective method of creating something different with your label designs by:
Enhancing the printed design.
Providing perceived additional quality.
Introduces a tactile element to the label.
Creates contrast with the print and/or label material background.
All of which combine and work to achieve a more interesting and memorable label for product and brand/corporate ID.
For more information about label embellishments, please contact our customer care team who will be happy to discuss your design requirements and assist with your embellishment options, email: customercare@aalabels.com or telephone 01733 588390